UPDATE DUE TO COVID-19 PANDEMIC​
Dear Glama's, 
During this COVID-19 pandemic, we are all in this together. 
THE BEAUTY BOX BY SHERIFF is doing their part to limit the spread as we have implemented added safety precautions to keep all of our Glama's Safe. 
During these times, it is important that we all continue to do our part and keep our spirits lifted and keep our Just Glam IT! Beauty on.
We have added some Glamtastic new services to continue to support our wonderful Glama Clients. 
We Love you Canada AND our USA friends, Stay Safe! 
                                                               Love From   The just Glam IT! Team  at THE BEAUTY BOX BY SHERIF VIRTUAL XOXO
On DEMAND Beauty Services Now Available From The Comfort of Your Home !!
Something's old - many things NEW! ... But all things Glam!
TOP CANADIAN MAKEUP SCHOOL - ACROSS CANADA AND USA
WINNIPEG LOCATION:
Our In-Person Makeup-School Classes for one-on-one makeup lessons for teens, adults, and aspiring makeup artists are currenly open for new registrations in Winnipeg, MB Canada. 
Classes in Winnipeg are small and private, to allow for us to continue working with you and still meet the Provincial Governments' public health orders.  Take advantage of this amazing opportunity to have the instructor's full undivided attention. 
Mobile Makeup Classes on DEMAND! CANADA WIDE – USA
We are NOW accepting registrations for makeup classes in other Cities across Canada and the USA our we Glam IT! team of makeup instructors are ready to serve you in your home. please contact us for makeup class lessons through our mobile class bookings.
Looking for something fun to do online? Take a virtual makeup class or lesson!
Online virtual classes are available anytime for full makeup artistry certification along with our personal makeup lessons. 
We offer makeup classes that are perfect for Teens just starting to experiment with makeup application along with anyone that is wanting to update or learn a new personal beauty skill. Professional Certificate | Diploma Makeup Artists Students can now enroll in our full program.
ACCEPTING THE FOLLOWING BOOKINGS:
MAKEUP ARTISTRY CERTIFICATION CLASSES for MAKEUP ARTISTS | LASH TECHNICIANS CERTIFICATE CLASS | HAIR-STYLING | PERSONAL MAKEUP CLASS | TEEN MAKEUP LESSONS
We adhere to all Government Restrictions and will notify you if your area is under any restrictions at the time of booking. 
Something NEW: 
We have added Pro. Makeup Artist Instructors to our we Glam IT! team that are able to train you throughout Canada and NOW the USA.
If you are a beauty salon or beauty service provider that specializes in Hair, Makeup, Nail or other estehetic services and are seeking work please forward us your resume. We are hiring beauty professoinals across Canada and the United States of America.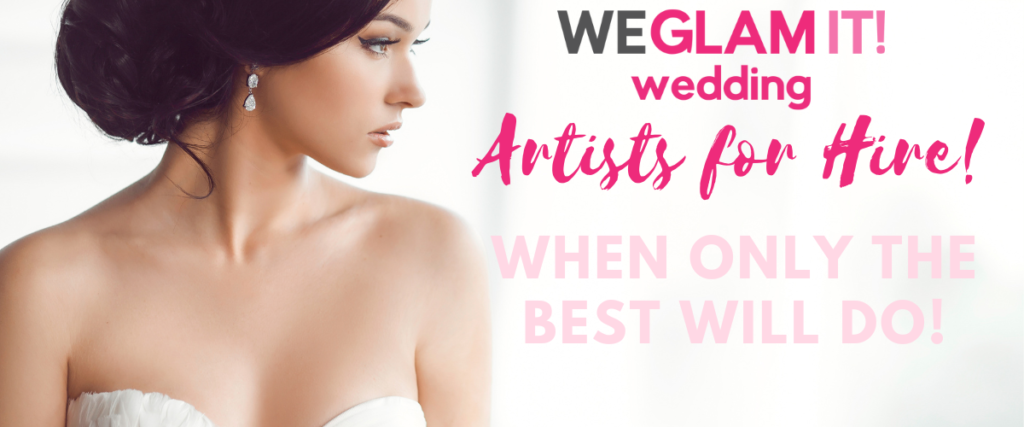 Here comes the bride all glama-ified!
CALLING ALL BRIDES MAKEUP AND HAIR SERVICES:  
Covid has caused so many weddings to delay or postpone one of the most important dates in a couple's lives. 
The just Glam IT! Team of professional makeup artists and hair-stylist are here to support our couples every step of the way.
Update: January 2022
Winnipeg Manitoba Region: Calling all brides – Manitoba Provincial Government is  currently open for all makeup and hair services. We understand that wedding can happen with a limited capacity. It's not the most ideal to have these limits still pending.  But it's nice to know that the 2 can still tie the knot with the people that matter the most.  So if you are in need of makeup and hair services for your wedding our Just Glam IT! team would like you to know that we are able to offer you our professional services, we will travel to you if required. 
Booking your services with our professional just Glam IT! team offers you the confidence in knowing that even if unexpected government restrictions happen, our team will work with you and your bridal party to ensure that your services are still our priority with your revised date of required.  
We are currently accepting wedding makeup and hair bookings our mobile team of professional just Glam IT! makeup artists are eager and happy to be at your service.
Bookings for Summer of 2022 and 2023 are coming in quickly, so be sure if you require our Glam services to book soon. 
We have instilled covid safety precautions to keep us all safe. 
SOMETHING NEW: With many makeup artists and hairstylists having to close down their brick and mortar locations, we are hiring great new talented stylists across Canada and the USA. Reach out to our team, if you are seeking a NEW, Fun Rewarding Career in Everything Beautiful! 
With our newly expanded Glam team, we are now accepting bookings with our Glam Go Round Team of professional makeup and hair-stylists Canada and USA-wide. Book early with our mobile makeup and hair service team, we will travel to your home or wedding venue. 
Please contact us as we are here to assist you in making your wedding day Glam perfect!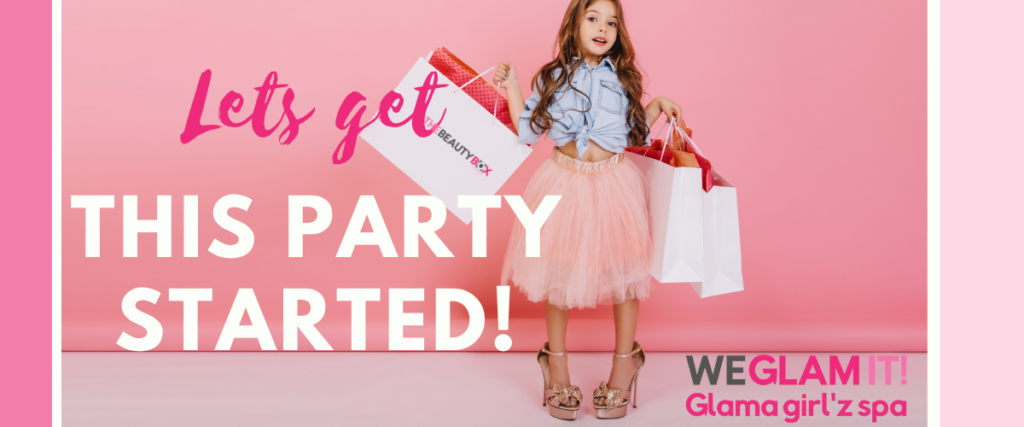 Little glama's, diva's and OF COURSE OUR DARLING princesses !
GLAM IT KIDS SPA PARTY BOOKINGS:
Now accepting new appointments for our Kids SPA Birthday Parties. Don't worry Glama Girls we have also added some new safety precautions to keep the Glam Girls, Divas and Princesses safe. 
Winnipeg Manitoba Region: 
Currently under – Government Health Restriction –  We are accepting in person Kids Spa Party booking along with our virtual kid's spa party packages
Join us for a Glam-Gtastic time In person or on-line, both packages offer you all a good time. 
Virtual Kids Spa birthday parties: 
It's been hard for many families, kids and businesses to navigate through these covid restrictions and lockdowns!
But the kids should not have to go without a celebration on their special days, that's why we have added to our party lineup online spa birthday parties.  Our virtual kids party lineup includes some great fun party packages ranging from mini-martha perfect for the crafters in your life, slime-time, glam pamper spa parties check out our virtual kid's party packages under the virtual party tab. 
It's easy…. we do all of the work and host your group virtually online plus provide all the kids in attendance with their very own glam box or bag that contains all of the goodies required to have a successful online party.  Our kits include yummy spa treats, games, prizes along with all of the tools required for your chosen party session. 
***** Please keep in mind that we have the right to substitute party packages, should we encounter any supply issues. 
Mobile Kids Spa party packages – across Canada and now the USA
Something NEW: Our just Glam IT! Team kids spa-tacular birthday parties are growing services are now available Canada – USA wide.
Our professional team will come to your home or venue location and bring all the glam fun with them. Contact us for your location – We are adhering to all government restrictions, in the event that your party booking must be delayed we will reschedule your group as the restrictions are lifted. 
Having a glam party with us is sure to be a Glam experience for kids of all ages, each party to adjusted to meet our Glama's maturity level.
Games, Prizes, Makeup, Mini-manicures are all included in our glam spa party packages! It's just a girl thing!
Here's some more great new ways to shop with us!
SHOPPING SERVICES:
Buying makeup products and supplies during this time, Our Retail Shop is currently by appointment only or shop online. 
Enjoy a personal private shopping experience with our just Glam IT! team within Winnipeg, MB location.
However, Glams you can SHOP anytime online or virtually with us on ZOOM or FACETIME for FREE online color consultations. contact us to book a FREE Makeup experience like none other.  
Due to the COVID-19 Pandemic, we are Now offering PRIVATE IN PERSON SMALL GROUP SHOPPING EXPERIENCES so that you can Shop Safe This YEAR!  – contact us to book your personal private shopping slot. 
During this time we are offering contactless curbside pick-up and delivery on all the cosmetics that you LOVE. Please contact us to arrange your VIP time slot.  
Local 1 day delivery in Winnipeg and area. All other orders will be shipped with Canada Post. 
Something NEW:  ZOOM – SHOP- DROP virtual shopping and service for FREE.  Book a private shopping in-store session with your cohort!
With the serge of closures in the beauty industry since the start of the COVID-19 Pandemic in 2020, we are now starting to see that this pandemic has truly affected many business in the Beauty Salon and Beauty Service Segment affecting across the world including Canada and the USA.
Many Beauty Salons are being forced to close down their businesses due to the government lockdowns and non-essential public health orders. Unfortunately many beauty industry business and salons will never recover from the loss of revenue that this pandemic has caused them to endure. It has been hard for many beauty professional entrepreneurs and I'm sure their families are also feeling the strain.
We knew that we could not just stand by and watch our industry beauty friends fall to the wayside because of no fault of their own. Being advanced entrepreneurs we have come to terms of a solution that will keep our beauty industry thriving ahead into a brand new fresh future. We are seeking professionals to join our team as we pivot into the new era of doing business. The world has changed and we must adapt to the new world that we now find ourselves living in.
Are you looking for paid work as a PROFESSIONAL MAKEUP ARTIST | HAIR-STYLIST | HAIRDRESSER| HAIR EXTENSION – WEAVE SPECIALIST| BRAID SPECIALIST | NAIL TECHNICIANS | LASH TECHNICIAN | BROW ARTIST | MAKEUP INSTRUCTOR | BROW OR LASH INSTRUCTOR| ESTHETICIAN | OTHER BEAUTY SERVICE PROVIDER | BEAUTY BLOGGER OR BRAND INFLUENCER?
Are you located in Canada or the United States?
Would you enjoy working your own hours?
Still be your own boss?
Are you a team player
Would you enjoy working independently?
How about doing what you LOVE? – It's like getting PAID to PLAY doing what you LOVE!
Are you professionally trained?
Professionally Certified or Licenced in your trade?
FT |PT | occasional work opportunities
Chair and Space within our Winnipeg shop is now avaliable for the right beauty candidate to join our team.
We are looking to hire the right candidates that are interested in joining our just Glam IT! Team of beauty service professionals.
It's EASY to make money doing what you LOVE!
Email us your resume with links to your social media pages. or reach out to us and share your vision!



"SHOP CANADIAN
SUPPORT CANADIAN
LET'S REBUILD OUR ECONOMY TOGETHER"